Enjoy the grace of Shinshu Satoyama, centering on things that can be taken from time to time, Mr. Fujimoto, general chef chef, will carefully prepare. Choose freshly picked ingredients from the neighborhood, incorporate cooking laws passed on to the land, and make cuisine full of taste like Fujii-so.
The "Ponpon Pot" (Oil Fondue), which has been loved for many years in the hotel, we can eat fried freshly squeezed the umami of the material by simple oil frying of mountain fruits and vegetables produced in Takayama village. In the morning when the trees shine in the morning dew, please welcome the beginning of the day with colored morning lights using cooked rice and carefully selected Shinshu material.

We will prepare meals for private private room dinner, or an eminent bamboo  seat.
Food specialties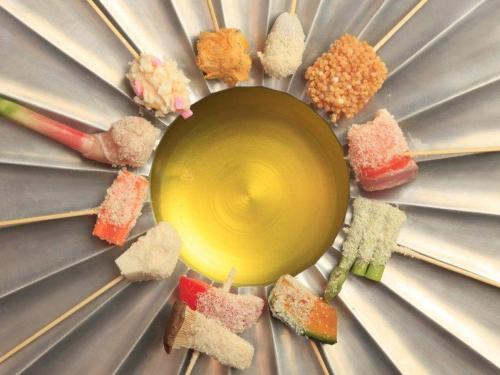 Fujiiso specialty "Ponpon pot"

"Ponpon pot" is a specialty oil fondue with a specialty dish you have been loving at Fujii Shosu for many years. We will prepare ingredients carefully selected for each season, such as sweet rich vegetables and wild vegetables etc picked up at Takayama village. Please eat delicately ingredients lightly and crispy at the most delicious hot timing.
Dinner
 Fusion of tradition and novelty born by total chef Fujimoto Atsushi

In Fujisoso we prepare kaiseki cuisine that adds traditional Shinshu food to enhance our original immunity.
Fujimoto, general chef chef, pursues a cuisine that respects the tradition while taking a new sensibility, and leads the Fujii Rosa party cuisine to a new frontier.
Breakfast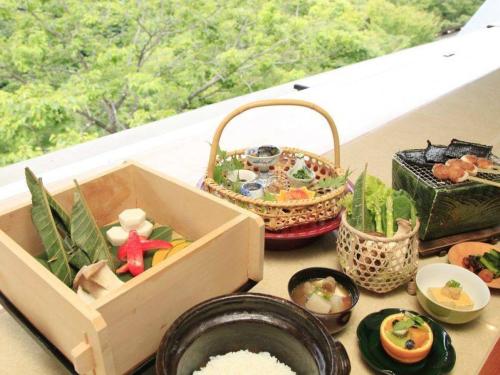 Taste over time, breakfast which carefully selected local ingredients

Breakfast is a gentle menu that gets into the body of a waking-up person. Foodstuffs will be selected further from those of local Shinshu. Please spend an hour or more and relax and enjoy the morning hours.